Stories of Racism
Recent stories of racism, a project in collaboration between Gig Harbor 4 Racial Justice, Indivisible Gig Harbor and South Sound Antiracism Project, are on display in our narthex. It is meant to hold up a "mirror" to our communities regarding how racism manifests itself and is present here. The ultimate goal is to strengthen Gig Harbor and Key Peninsula communities for ALL to live here. A first step is to acknowledge the problem and listen to each other's life stories. Take the opportunity to read these accounts while it is on display here at Agnus Dei. It was previously shown at Gig Harbor United Methodist and will be at St. John's Episcopal during March.
Land Acknowledgement
We, the Agnus Dei Lutheran faith community, acknowledge that we gather each week on the traditional homelands of the Puyallup People (spuyaləpabš), a Coast Salish Lushootseed (txʷləšúcid) speaking People. The Puyallup People have lived along these shores for thousands of years, faithfully stewarding these lands and waters, as they continue to do today. The earliest Native residents, a branch of the Swift Water People (sxʷəbabš ), called this land txʷaalqəł, and their longhouse was within walking distance of our church. This land acknowledgment is one step toward engagement and true solidarity with the Puyallup Tribe. We commit to uplifting the voices, experiences, histories, and concerns of the Puyallup--and of all Indigenous Peoples--and to being good stewards of the land and water which surround us.
JUNETEENTH GIG HARBOR
Sponsored by Gig Harbor 4 Racial Justice
We have participated in the Gig Harbor Juneteenth event sponsored by Gig Harbor 4 Racial Justice held on the federal holiday each June. Music and holding racial justice signs are featured.
Rooted in the Word and grounded in prayer, we share our membership in the
Beloved Community
with all people, affirming that God's love, justice, and mercy belong to everyone without exception. Aware of our failure to recognize the structures and systems contributing to racial injustice and inequality and acknowledging our role in maintaining these injustices, we confess and repent of the harm we have done. We commit to listen to the voices of the oppressed and marginalized, to educate ourselves more fully, to engage in work to end racism, to promote social justice, and to support others who seek to make a difference in the struggle for equity and justice. This is our lifetime commitment.
Agnus Dei's statement on Racial Justice, approved by the congregation on Nov. 17, 2020.
Protest is a holy practice of God's people
Are you OK with our current reality in this country? No?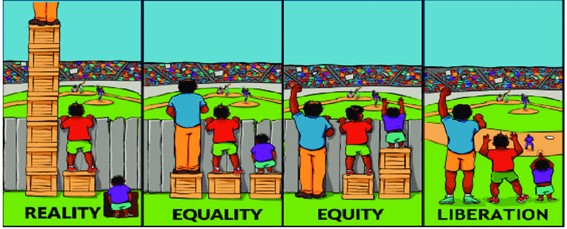 Rev. Benjamin Wayman suggests that, "The people of God are a people of protest. Christians in America should see protest as part of our necessary proclamatory action that Jesus is Lord in a world that lives otherwise. We protest people who disparage the image of God in other human beings. We protest policies and practices that fall short of love of neighbor. We protest systems and patterns that privilege some and exploit others. We protest the politics of a world that killed the author of life and is set on killing his disciples. The politics of God's kingdom is at odds with the politics of this world, which is why protest is a holy practice of God's people. Christian protest witnesses to the reality that all is not well in our world, and it announces the good news that the kingdom of God is near. The whole of Christian life is a witness in protest. In this sense, the church doesn't protest; the church is a protest.
(from an article "Why do Christians Protest?" The Christian Century Oct. 20, 2020)
I Renounce Them
Do you remember saying these words? Our fellow Lutherans at Immanuel in Seattle have spoken in renunciation of exactly what those forces are that defy God's message of love, justice and mercy for everyone without exception. Have a listen.
Segregated By Design
This video will help you understand why we as a nation need to face up to what injustices have been done through housing policies - and then remedy them. Take a look.
PAPÁ
Systemic racism is not confined to the Black community, but permeates our society, affecting our indigenous siblings and all people of color. As we confront issues of racism, we recognize the extent to which racism has affected our immigration policies.